MSA Awareness Month
March is……
Multiple system atrophy (MSA) is a very rare condition and therefore raising awareness and understanding of it and the work of the Trust is vital. There are many ways you can help us, wherever you live, during the month and beyond.
You can :
Sell our Orange charity ribbon (for a suggested donation of £1) to your friends and family and open a conversation about multiple system atrophy. Get the ribbons HERE.
Share the infographics (below) on your social media page(s), or follow us and share the ones we post on Facebook and Twitter. (Lets make #MSAAwarenessMonth famous!)
Buy, wear and use everything that comes in our Awareness Packs, containing lots of MSA Trust merchandise! Buy the bundle here.
However you support us, whether you wear our ribbon for March, share our media posts or just talk to more people during Awareness Month – we're extremely grateful. Thank you.
Although MSA is a complex condition, we have broken it down for you to better understand it and spread the word!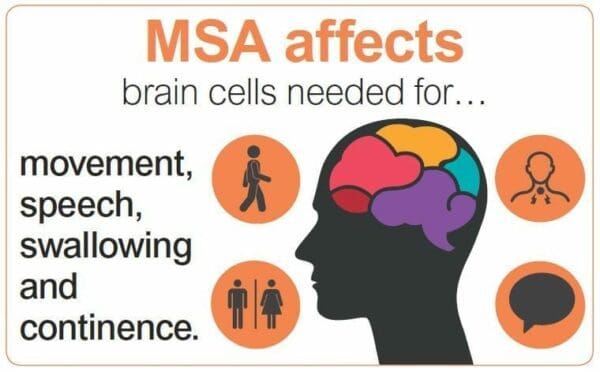 What is MSA?
Multiple system atrophy (MSA) is a progressive neurological disease

It causes the nerve cells to shrink in different areas of the brain
MSA leads to severe problems with movement, speech, balance and autonomic body functions. e.g. bladder, blood pressure control.
It occurs randomly in adult men and woman, the average starting age is 50-60, but it can start earlier or later.

MSA is a RARE disease.
This means that most people will never have heard of the condition, unless they themselves have already met someone with MSA. Sadly, this is also true for a lot of health professionals which is why the MSA Trust works to raise awareness and increase understanding of MSA throughout the UK and Ireland.
MSA is a DEGENERATIVE disease.

This means that unfortunately symptoms are likely to worsen over a period of time. In due course the need to rely on others for help may arise. This is where the MSA Trust comes in.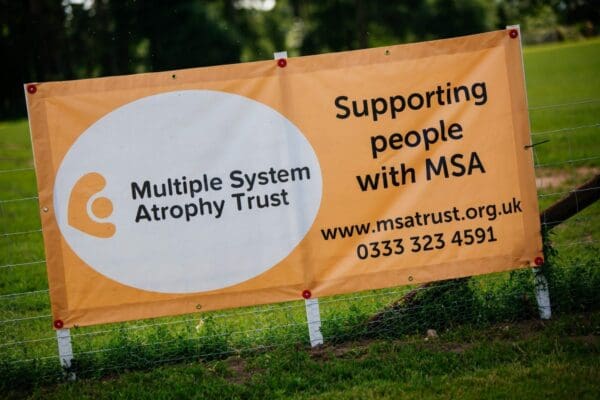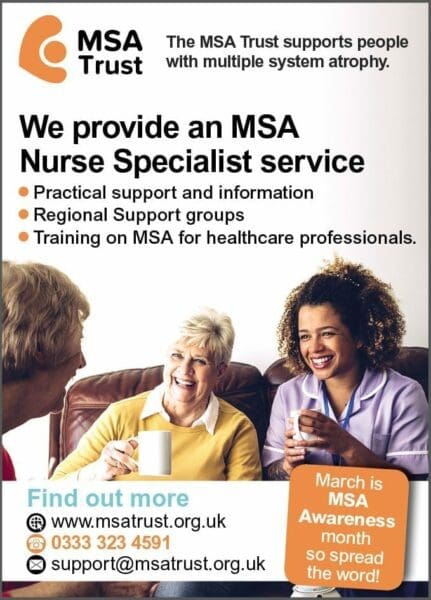 We have :
4 MSA Nurse Specialists providing telephone and email support service
43 local Support Groups across the UK and Eire
Up to date information on living with MSA, available through our factsheets, through our regular magazine, MSA News, and through our website. 
An advocacy service that handles queries on a range of issues important to the MSA community.       This includes benefit checks, help with continuing healthcare and grants for equipment
Education and support for health and care professionals working with people with MSA
Below are some clips taken from a documentary by Will Norman about his father who had been diagnosed with MSA. In the first, Paul, a former teacher, talks about his condition to a group of past students with the help of an e-reader. In the second clip Paul talks with Will about how his condition makes him feel and also visits his other son in hospital.
If you'd like to watch the full documentary you can here: https://vimeo.com/201639510
Thank you for taking the time to find out more.
Now that you know so much about MSA, talk to someone who has never heard of it.