The show must go on…..
Our fantastic supporter Alex Haward wasn't disheartened after his Ride London event for MSAT was cancelled; he found a way around it. Alex recalls his experience of finding an alternative way so that he can continue raising vital funds for MSA Trust :
MSA Trust is a charity very close to my heart because after my father-in-Law suffered and passed away from this condition.  I hadn't heard about it before he was diagnosed, so it has been good to learn more and support MSA Trust as they conduct research and help others who have this condition.

I was due to be riding 100 miles in August for MSA Trust, but the Ride London event was cancelled. I decided to instead do 100 miles running in place of my cycling (of course over the course of a month – not in one go!).  This is where 5k a day for 31 days in July started out which would total 100 miles for that month.  I had never done a daily run,  so this was going to be out of my comfort zone!

Day 1 came and I set off on my first 5km run which I am pleased to say I completed in 23m 15s and felt comfortable with this result.  I am now on day 14 (roughly half way) and I completed yesterday's run in 21m 49s  – burnt less calories and my heart rate was slower but oh well!  I am getting into more of a rhythm now and pleased to say I am really enjoying the runs. 

I will most likely carry on after I have finished this challenge as I hope to raise as much funds as possible for the great work of MSA Trust.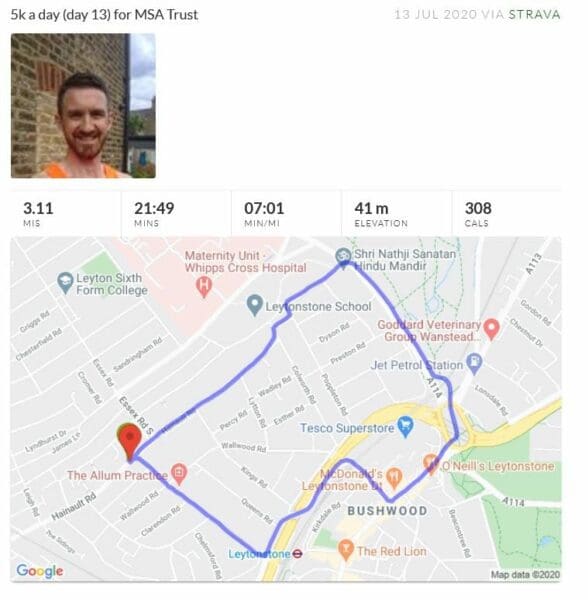 Alex has linked his fitness tracker to his fundraising page so that his friends and family can 'see' his daily runs (miles and time taken) on his page, and sponsor this fantastic effort. If you want to do something similar, please email fundraising@msatrust.org.uk
---
Disclaimer: The views and opinions expressed in the blogs published on these pages are those of the authors and do not necessarily reflect the official policy or position of the MSA Trust.