Lights, Camera, Action! Well, not exactly…Putting MSA in the spotlight – most definitely!
My day at the BBC studios in Edinburgh taking part in a live interview on BBC Radio 2's Jeremy Vine Show…
LIGHTS – Well yes, hightlighting MSA
CAMERA – Focus on this terrible disease
ACTION – Let's all work to help find a cure for MSA
I arrived in plenty time for my allotted interview spot on BBC Radio 2 – the purpose of which was to hopefully raise awareness of MSA. I was made very welcome, although I felt a little anxious with just a hint of nervousness, but still able to enjoy a cup of tea. The importance of this for everyone involved with MSA was in my mind, as well as, "don't mess up, don't think there are 7 million people listening, you are just speaking to Jeremy".
As 1.00 pm approached I was shown into the studio and comfortably seated in front of the microphone with headphones on and a glass of chilled water ("you're clumsy don't spill it!") and my copious notes at the ready ("don't rustle the papers!").
"London calling Edinburgh Studio", "London calling Edinburgh Studio" – Oh! That's me, "hello", "hello Douglas are you OK", "yes, good to go". I am linked to the live show. I hear music playing then I hear Jeremy introduce the piece about Multiple System Atrophy and listen to Dr Sarah Jarvis discuss what this means. Everything went calm and then it was as if I was just speaking one to one on the phone and I found myself not even reading my notes – after all my preparation it was over in what seemed like an instant. There was so much more I wanted to say but there did not seem time. That's not a criticism of Jeremy but I realised the show has its schedule and timeframes to follow to allow Dr Sarah her more knowledgeable say. Then the Producer's voice was heard in my headphones thanking me for my contribution. It was time to exit the studio and I breathed a sigh of relief. I could feel the adrenalin flowing. I thanked my most courteous and very professional BBC host and headed for home. It was a long but fulfilling day – yes an exhausting day – but that is nothing new. The only thing in my mind is that I hope with the amount of people who listen to the Jeremy Vine Show this has to make a difference and will have gone some way to further raise awareness of MSA and the pursuit of finding a cure for our terrible disease.
Now back to my notes. On reflection, if I had been allowed time to say everything that had been swirling round in my head and all that I noted down, Jeremy's show would have overrun by some 30 minutes. I wanted to say how keeping positive has helped me and to let people know that it is not only the person who has this disease but the carers, the families and friends and even the health professionals and supporters who are all taken along on this horrendous journey, however long that is, so many will have been touched by MSA.
Having listened back to the show I think it went well and it certainly raised awareness of MSA to a much wider audience. I personally wish to thank Jeremy Vine and Dr Sarah Jarvis for putting the subject of MSA on air.
Featured image provided by Gavin Whitner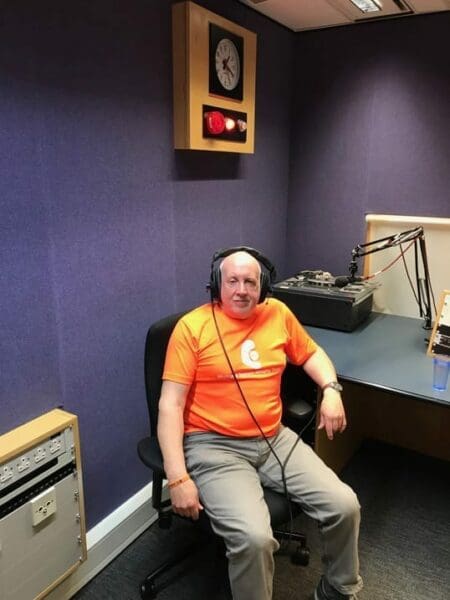 ---
Disclaimer: The views and opinions expressed in the blogs published on these pages are those of the authors and do not necessarily reflect the official policy or position of the MSA Trust.