Cycling Manchester to Blackpool
"I decided to take part in the Manchester to Blackpool bike ride in aid of the Multiple System Atrophy Trust to raise money in memory of my mother-in-law, Elaine White.
Elaine passed away in February this year at the age of 64. Elaine had been ill for just over 7 years with various illnesses and was diagnosed with probable MSA in 2015.
The last 7 years had been extremely difficult for Elaine and her family, especially my father-in-law, Harry, who is in his 70's and was Elaine's main carer.
Over the last 7 years Elaine's mental health condition became difficult to control, her legs began to swell, she began to suffer from falls and walking became particularly slow. My wife often wondered if (as well as the mental health illness) Elaine suffered from Parkinson's but dismissed this when told Parkinson's drugs had been tried but made no difference (the later diagnosis would make sense). 
During a period of respite care, Elaine fell and was hospitalised and from then on was unable to walk again. Various tests were done but it seemed no one could get to the bottom of this illness. Numerous trips to hospitals were made with Elaine continuing to have falls. It was then that the probable MSA diagnosis was made.
On researching the illness online my wife came across the MSA Trust' website. We could tick off most of the list of symptoms and finally we could see what Elaine had been suffering from all along – multiple system atrophy. The fact sheets where extremely useful as we could use them to give to health care professionals helping Elaine to show them what her illness was all about.
The specialist nurse, Katie Rigg, was extremely helpful to us and recommended that we explore NHS Continuing Health Care when we were struggling with the support from social services. After going through the eligibility process Elaine was deemed eligible.
In early 2017 Elaine started to deteriorate rapidly, eating and swallowing her meds became extremely difficult and Elaine would spend a great deal of time sleeping. In February Elaine suffered from a cardiac arrest at home, she was resuscitated and was transferred onto a ward at Bolton Hospital and was switched to end of life care. Elaine battled on for just over a week after the cardiac arrest but on February 11th she passed away. The care and the support at the hospital was greatly appreciated at such a sad time.
In July, I cycled from Manchester to Blackpool with my friend, Graham Lee, in memory of Elaine and raised over £600.
The MSA Trust helped my family when they needed it the most and I hope the money raised ensures the Trust can continue to support other families affected by this illness and hopefully one day find a cure. 
Thank you to everyone who made a donation, this is greatly appreciated."
Adrian Davies and family.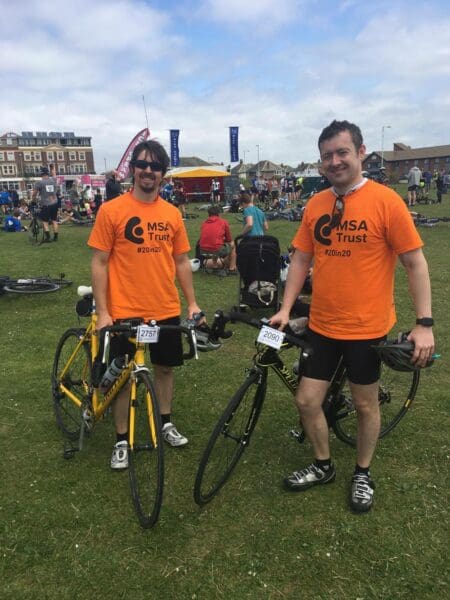 ---
Disclaimer: The views and opinions expressed in the blogs published on these pages are those of the authors and do not necessarily reflect the official policy or position of the MSA Trust.