Milk, Sugar And Tea Party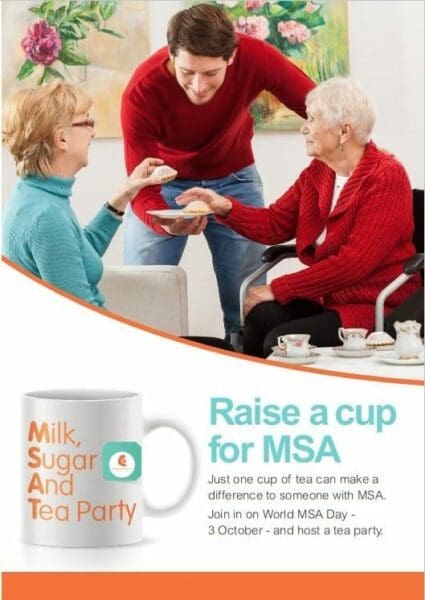 Around 3,000 people in the UK and Eire have multiple system atrophy, which leads to premature death – currently there is no cure. That's why we're asking people to show their support by hosting a Milk, Sugar and Tea Party.
With the COVID- 19 pandemic restrictions in place, we are encouraging everyone to host their tea parties online. This can be done through zoom, and you can still have a scrumptious tea party and help raise vital funds to support our MSA Nurse Specialists. The Nurses provide telephone and email support services for people with MSA, attend digital Support Groups and are a lifeline for the MSA community during these challenging times.
It couldn't be easier to host your virtual tea party, just open a Zoom account and schedule your Tea Party event. Then click on START FUNDRAISING below to ask friends and family to donate to MSAT in exchange for the Zoom tea party invitation.
Download our Tea party guide HERE to find out more or order your Tea party pack below.

Don't forget to bake your sweet and savories ahead of your Zoom tea party so that you can enjoy with your 'guests' when they join! You can also get our special Tea Party mug from our online shop – perfectly branded in the Trust colours!
Download
file

(418.72 KB)