Mark's legacy continued…
As with many of our members, Mark Hearn was initially diagnosed with Parkinson's Disease before his consultant changed it to multiple system atrophy in 2019. Due to his deteriorating condition he had to retire from luxury watch brand Patek Philippe, where Mark was Managing Director of Rhone Products since 2000. He was an inspirational leader, a man of his word and a very supportive colleague, helping many of Patek Philippe's employees build their career in the watch industry. As a keen sportsman and avid tennis player, Mark firmly believed that a healthy body led to a healthy mind and was planning a cycling event for his colleagues to raise funds and awareness of MSA. Unfortunately, the COVID-19 pandemic meant the event had to be postponed and after Mark sadly passed away in Dec 2021, his colleagues took it upon themselves to continue his legacy.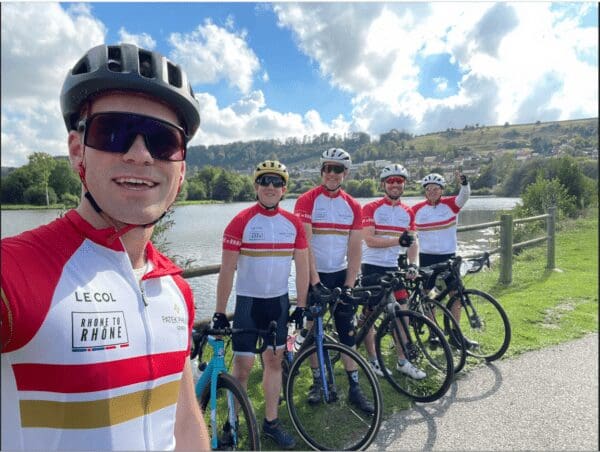 They came up with the Mark Hearn Memorial Cycle Ride – a 1000km cycling challenge over 8 days that started from the Patek Philippe head office in the UK, covering their London, Paris and Geneva salons, and finally ended at their company headquarters in Geneva. Taken on by 5 of their watch makers (Adam Dunbar, Beau Francis , James Hewitt, Patrik Zetterlund and Steve Parkinson) many of whom are avid cyclists themselves. This was a mammoth, physically demanding challenge that involved cycling through different terrains – from the cobbled streets of the centre of Paris, to the winding roads of the Jura Mountains. Some days were more eventful (unintentionally of course!) than others with the weather not always on their side, but the cyclists were motivated to see the finish line come what may! They said :
"We now want to keep our word to him, just as he unfalteringly did for each of us."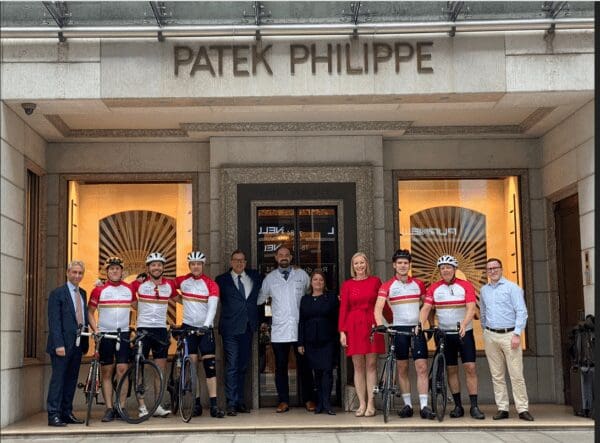 On 16th September the cyclists completed their final day, riding from Saint Claude to Geneva where they received a hero's welcome by the Directors and employees from all departments of Patek Philippe.
Their initial fundraising target of £20K was smashed within days of the challenge starting, and the amount has now crossed £42,000! A fitting amount for such a fantastic effort. We are grateful to each and every one of the cyclists, their friends and family and a BIG thank you to Patek Philippe. What an amazing tribute to a great man, Mark would have been so proud.
---
Disclaimer: The views and opinions expressed in the blogs published on these pages are those of the authors and do not necessarily reflect the official policy or position of the MSA Trust.