Jenny and Team become Superheroes for MSA Trust!
In May last year my sister Elizabeth and I and our kids Camille and Cordelia took part in the 5k Superhero Run in Regent's Park. We ran for our lovely Dad and Grandpa, Robert Dick, who was sadly diagnosed with MSA a couple of years ago now. Dad is a retired doctor now aged 80. Before he retired he was a Consultant Radiologist at The Royal Free Hospital in London but he is originally from Sydney, Australia. When we were growing up he encouraged all four of us kids to play sport and he was a brilliantly agile and quick witted tennis and squash player.  One could never have guessed then that he would be struck by the very cruel and incredibly rare MSA.
His biggest wish is that a cure for MSA is found.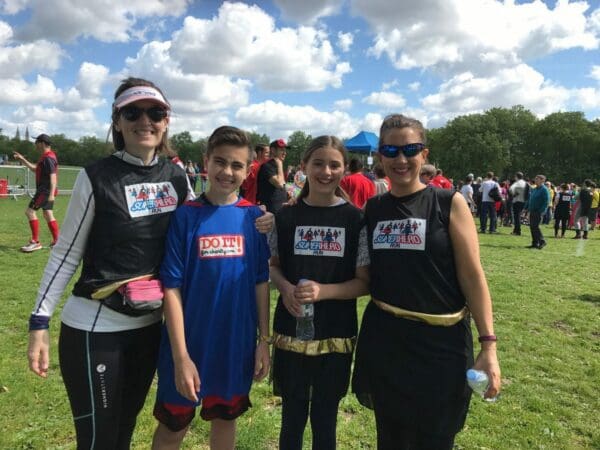 So that's how we found ourselves at the fantastic Superhero fun run on a gorgeous day in Regents Park. As we arrived at the park we passed 'Catwoman' and began to laugh. You could not help but be put in a great mood by the array of superhero costumes on display including superhero pets, the loud music and the positivity.
After doing some Zumba and stretches we were on our way – the countdown to the run began … 10,9,8… and we were off with everyone's superhero cape flying in the breeze! We noticed the many charities taking place including a lovely little girl who had survived meningitis and was taking part with her Dad. It was a life affirming and positive day.
At the finish line, complete strangers applauded our efforts and an army of happy volunteers were handing out water and medals. We left with huge smiles on our faces!
As a family we are so grateful to The MSA Trust for the opportunities it provides to learn more about the disease especially the regular group meetings over a cup of tea. The knowledge that is being shared is invaluable. Every day we get closer to finding a cure for MSA or as my Dad calls it – "Parkinson's nasty cousin". Here's to a cure being found soon and thank you to everyone at The MSA Trust for the fantastic work they do.
---
Disclaimer: The views and opinions expressed in the blogs published on these pages are those of the authors and do not necessarily reflect the official policy or position of the MSA Trust.