Leanne runs the Severn Bridges Half!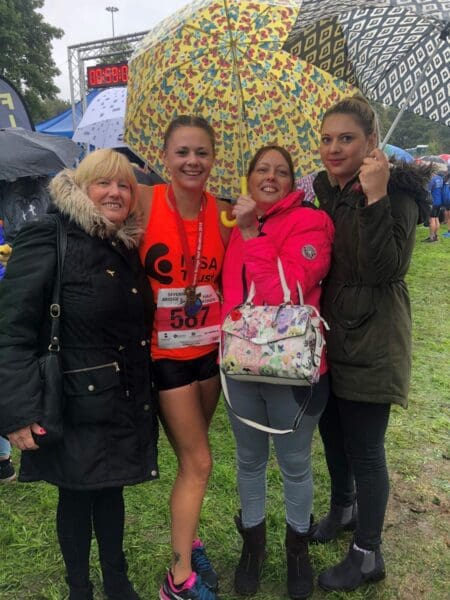 Leanne wanted to show her support for her close friend who is currently living with MSA and to give something back while she did so.
She took on her local half Marathon at the Severn Bridge Half Marathon, running from Wales to England and back again! This was her first half Marathon and she finished in 1 hour and 50 minutes, raising £535 in the process. Top work Leanne!
Inspired to run your local event? Check out the 200+ events around the UK that we have places for here
---
Emma's Half Marathon Challenge 
"I decided to run my first half marathon in memory of my Uncle Dave who sadly lost his battle with MSA. I started out on my running journey to challenge myself as I never thought I could run 13 miles but I wanted to finish it as a tribute to his courage and strength of spirit. The training was hard and I ran in the countryside through rain, wind, snow and hail, whenever I felt like I wanted to give up I thought about my Uncle Dave and how much he would have loved to have been out on his bike in in the fresh air and it kept me going. I fundraised through JustGiving,  Facebook and Instagram, all of which I kept updated with my training progress. The support I had from family and friends was fantastic! I'm sure my Uncle Dave was with me in spirit on the day as I finished my half marathon for the both of us". -Emma Shipton-Smith
Emma completed her very first half marathon in memory of her uncle, Dave and raised over £700 for the Trust. Fantastic work Emma, well done!
---
Nicola's New York Marathon
"My mother was diagnosed with MSA in 2016, having never heard of the condition before I wanted to bring awareness and raise money for the charity as they support my mum and family so much. I entered the NYC Marathon not thinking I would be picked and a complete novice to running! I was so grateful to be given the opportunity. The run itself was the best experience ever-the crowd was electric and every step I took I thought about my Mum – Seeing the strength she shows every day to fight such a horrible condition gave me the inner strength to run up every hill and finish the marathon in a time of 4hrs32mins. I was chuffed with my finish time and completely blown away with everybody's generosity when it came to donating to such a worthy cause!" – Nicola Wood
Nicola took on the New York Marathon last year and raised an incredible £956.60 for the MSA Trust. Very well done, Nicola!
---
Hannah's Half Marathon 
"I recently ran the Birmingham Half Marathon for MSA Trust. I had never heard of MSA or the Trust until my Dad was diagnosed in 2011. I had no idea what was to come or what it really meant. MSA Trust provided my Dad, Jim, and my family with so much support and love that I honestly don't know what we would have done without them. They allowed us to enjoy my Dad's final few years to the full and make them as fun and comfortable as possible. My dad is nothing short of a hero, and because he loved his family so much, he kept a lot of the pain and frustration to himself. If raising money can help prevent someone else going through what we did, it's a pleasure! MSA Trust will always hold a very special place in my heart" – Hannah Ward.
Hannah did a fantastic job of raising £410.00 in aid of the Trust and in loving memory of her Dad, Jim. Well done Hannah!
---