Cycling Events
Whether you are a semi professional cyclist or are looking to get into cycling after many years, we have something for everyone! If MSA Trust does'nt have charity places or registration details for a cycling event you are interested in, please secure your own place and email the Events Team. We would be more than happy for you to participate in aid of the Trust.
Disclaimer – Please note that sometimes part of the funds raised by a cycling participant in the name of the MSA Trust are used towards the participant's costs of taking on the cycling challenge. The challenger is responsible for making this clear to their donors if they are not self-funding their challenge.
All of our 2020 cycling event's dates have been announced and are listed below.
Event:
 Prudential Ride London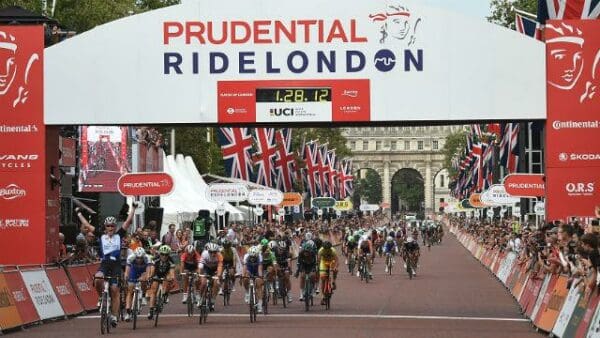 Date: Sunday, 16th August 2020
Location: London and Surrey
Sponsorship: £500 (for Prudential Ride London-Surrey 100)  and £250 (for Prudential Ride London-Surrey 46) with an MSA Trust place. If you have your own place, just raise as much as you can!
Sponsorship – RideLondon Team Challenge – Team of 3 – £1400 for Ride London 100 or £700 for Ride London 46
Team of 4 – £1,900 for Ride London 100 & £900 for Ride London 46
Why choose Ride London?
The ever popular Ride London is back this year! Don't miss out on your chance to take part in an event that celebrates a cycling legacy left by the London 2012 Olympic and Paralympic games. Starting in Queen Elizabeth Olympic Park, the 100 mile route takes in breath-taking views of Surrey's countryside, before finishing off in The Mall. Since 2016, the event has also featured the Prudential Ride London-Surrey 46 – a 46-mile event created specifically for newer and also younger cyclists. Please visit their official website for details – https://www.prudentialridelondon.co.uk/
---
Event:
 London to Paris Cycle
Date: 15th – 19th July 2020 (5 Days)
Location: London to Paris
Sponsorship: £1,600 (£149 registration fee), Self funded – £825
Why choose London to Paris?
Don't just take our word for it, read what Charlotte had to say:
"If you're looking for a fun and challenging experience to participate in to raise funds for the Trust then I can highly recommend signing up for the London to Paris cycling challenge! The 300 mile bike ride takes place over four days and departs from Crystal Palace, London finishing at the Eiffel Tower, Paris. I really enjoyed the whole experience; this challenge is by no means an easy one but everyone bands together for support and with some basic training is achievable for all taking part. It was a privilege to undertake this trip on behalf of people who can no longer manage activities such as this one in the hope that the money raised will go towards vital research and support for these people affected. If you are in any doubt about doing a challenge, my advice is just do it! You will not regret this experience of a lifetime!"
---
Event: London to Brighton Cycle Ride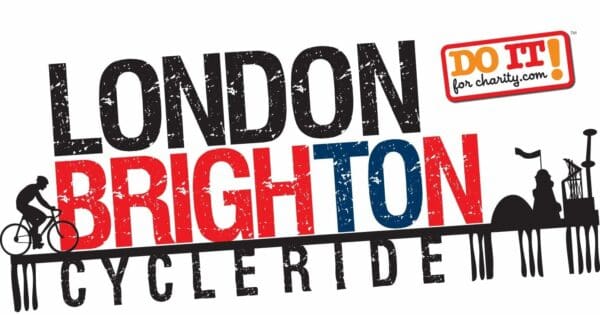 Date: Sunday, 13th September, 2020
Location: London to Brighton
Distance : 55 Miles
Sponsorship: £150 Sign up externally Sign up here.
Why choose London to Brighton?
This mass-participation one day cycle ride takes a route from Clapham Common in London
to Madeira Drive on the Brighton sea front. So not only a ride with some stunning views but great for riders of all abilities in an informal setting.
Don't just take our word for it – this is what Jeremy who did the ride in 2017 had to say –
"My mother was the one who put my name down for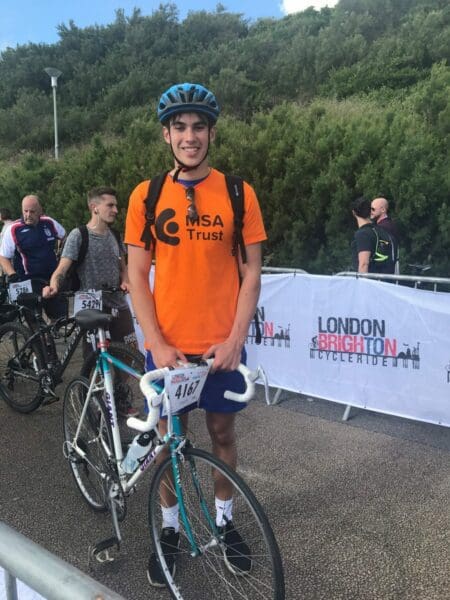 the event and never having done anything like it I
was unsure whether I would actually go through with
it. However, I am extremely glad that I completed it
as firstly, my target was greatly surpassed by the
fantastic support of my friends and family, raising
money for a great cause gave me a real sense of
achievement and pride. On the day of the cycle, to
my surprise I really enjoyed it, the atmosphere, the
views and the feeling of accomplishment as you
cycled through the cheering crowds along Brighton
beach"