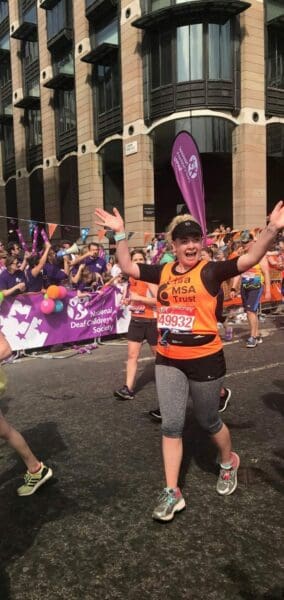 Around a third of all the Trust's income comes from fundraising events. Therefore it's an inspiring and fulfilling way to remember a loved one and/or to show your support for MSA Trust.
There are various fundraising events taking place year long to support the Trust. You may wish to do a run, go cycling or may even dare to take on a Skydive! You may also wish to do your very own and unique fundraising event. While we gladly welcome this, please note that we cannot take responsibility or liability for the event as this is classed as a third party event in aid of the MSA Trust.
Click on the different Events below to explore all your options.
If you are thinking of taking part in any of the events email the MSA Trust Fundraising and Community Events Team at fundraising@msatrust.org.uk or call 0333 323 4591. We support you by providing MSA Trust fundraising materials and sponsorship forms. We can provide information for registration and availability. We will also be happy to advise you on how to promote your fundraising event both off and online!
Haven't decided on what you would like to do? Just let us know your contact preferences and we will inform you of upcoming fundraising events.
No matter what you are doing to support and fundraise for the MSA Trust it helps us best serve the MSA Community. We sincerely appreciate all your efforts! Thank you!
---
Please download calendar of third party events below
We also have places in:
The London Marathon
Great North Run
Ride London-Surrey 100
Ultra Marathons